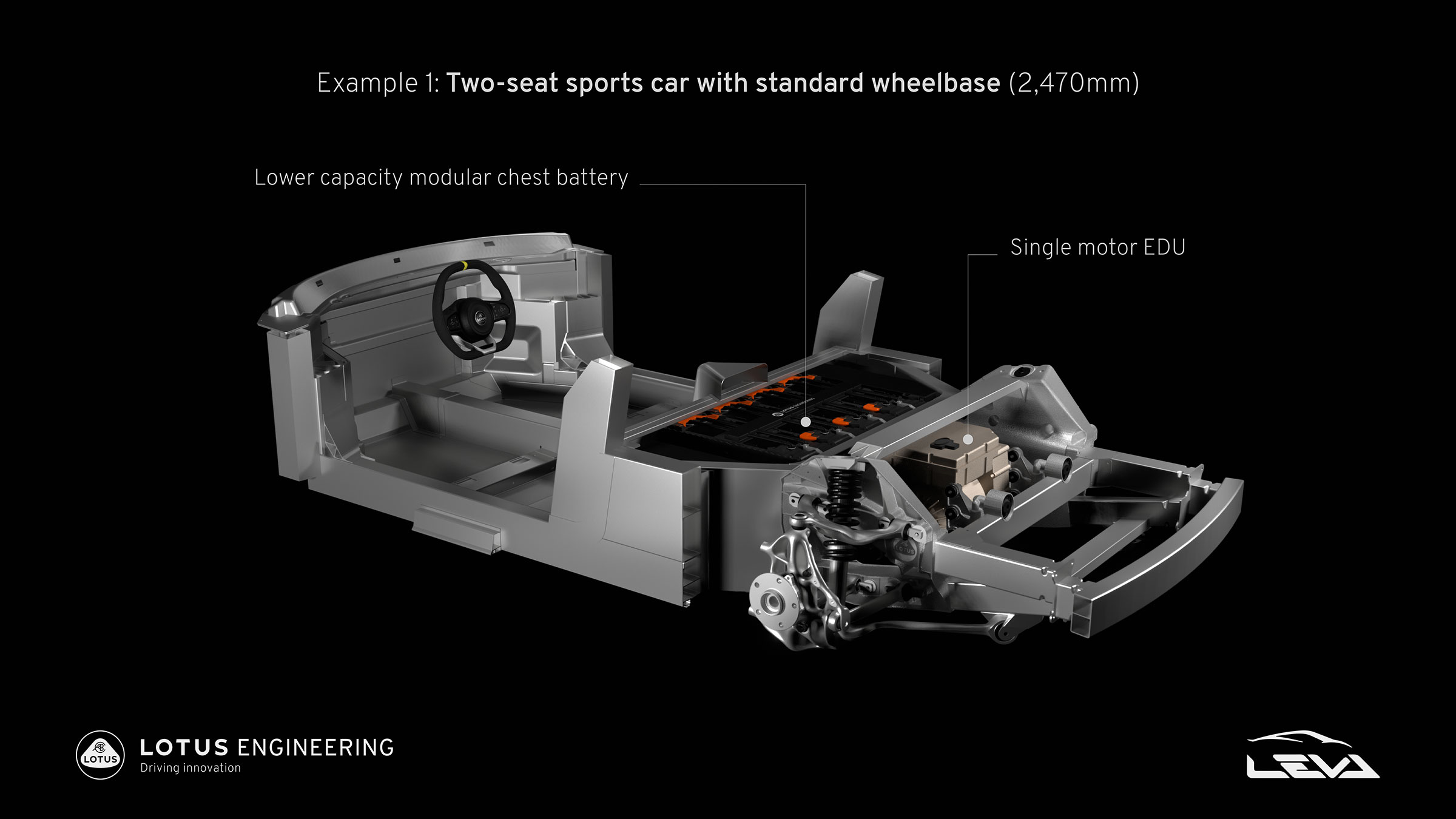 Shorter wheelbase two-seater sports cars
Supports small-to-medium sports car layouts with minimum wheelbase of 2,450mm
Common rear subframe structure using low-pressure die-casting in new BD1 aluminium alloy
Up to 66.4kWh, 8-module chest battery
Single high power density axial flux motor EDU delivering up to 350kW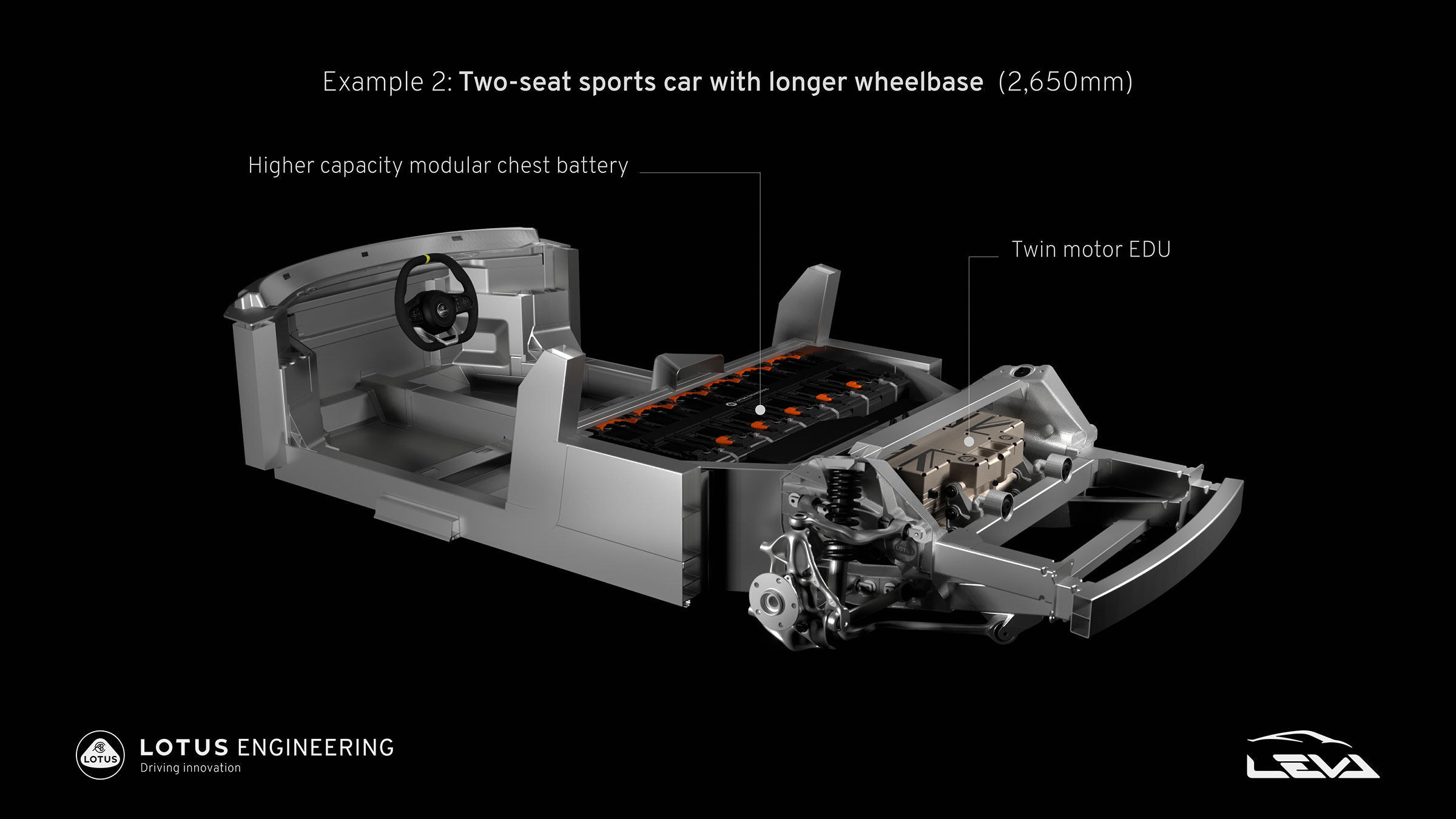 Longer wheelbase two-seater sports cars
Supports larger sports car or supercar layouts with wheelbases in excess of 2,650mm
Increase extrusion length behind B-pillar to facilitate up to 99.6kWh 12-module chest battery
Structure also flexible in vehicle width straight cross-car extrusion beams
Twin high power density axial flux EDU offering independent wheel drive facilitating maximum benefit of torque vectoring and delivering up to 650kW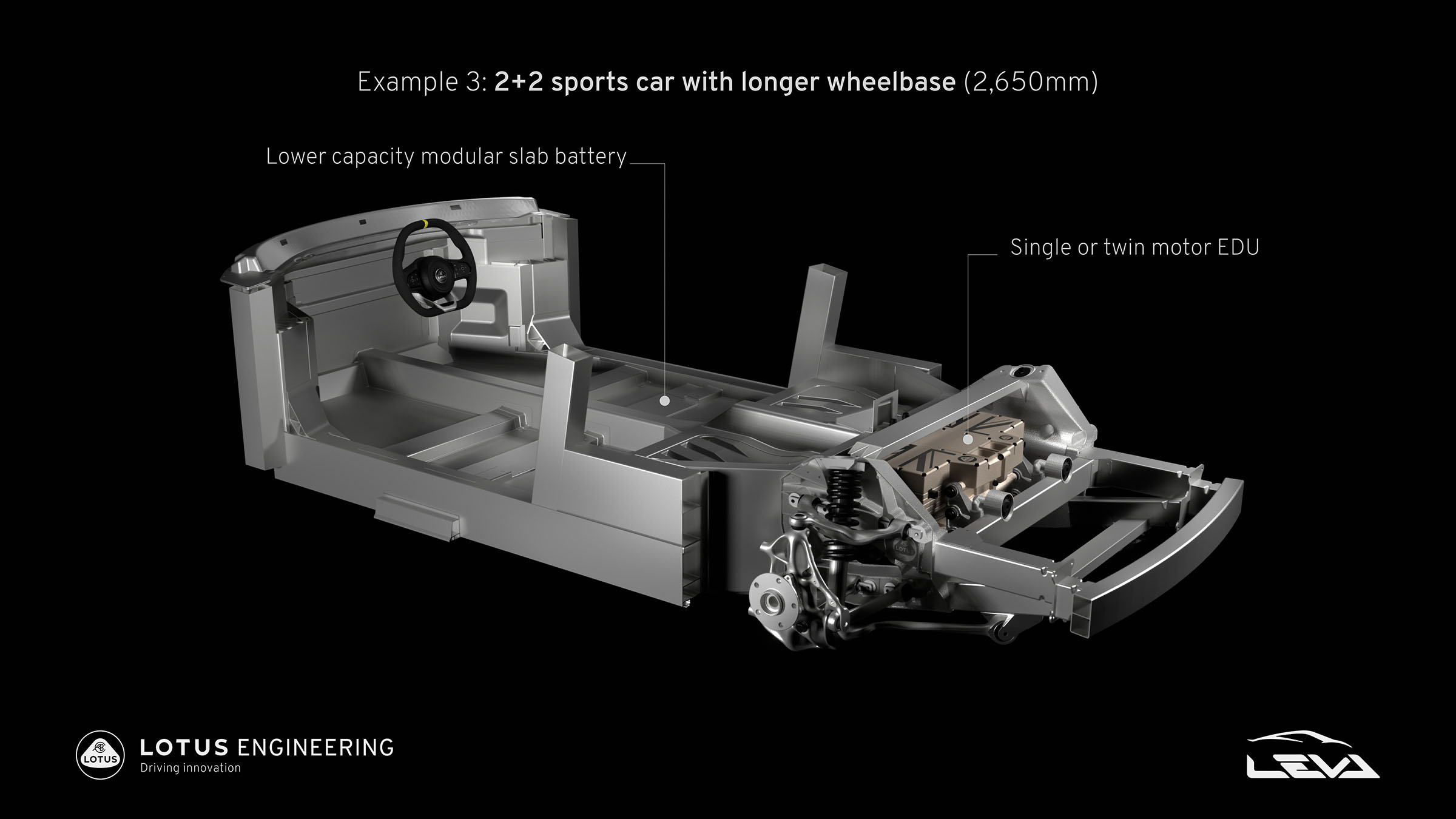 Two+two sports crossover cars
Supports four-seater sports crossover layouts with wheelbases in excess of 2,650mm
Chest battery replaced by rear seats
Occupants raised 125mm to accommodate underfloor battery
Up to 66.4kWh, 8-module slab battery
Common rear structure to chest battery layouts integrating either single or twin-motor EDUs
---
White papers
Lotus Engineering has produced a series of white papers discussing the LEVA architecture and associated technologies.
LEVA Platform Concept
With a worldwide shift to battery electric propulsion systems, LEVA (Lightweight Electric Vehicle Architecture) proposes a propulsion and rear-end structure as part of a wider flexible platform vision to deliver multiple sports car models to meet the investment constraints of this traditionally lower-volume market. By considering vehicle level requirements, applied to key system level design at the earliest phase of concept development, efficiency is achieved and LEVA delivers a viable solution for future Lotus vehicles and Lotus Engineering partners to deliver an experience 'For The Drivers'.
LEVA Structure and CAE
This paper focuses on the development of an efficient lightweight rear structure to support the parallel LEVA (Lightweight Electric Vehicle Architecture) project work packages. Working closely with Sarginsons and Brunel University partners to explore casting and material technology advances, a concept is proposed for a rear subframe integrated with primary structure. By considering vehicle level requirements at the earliest phase of concept development efficient load paths around core propulsion elements are achieved. CAE analysis is used to iteratively develop the proposal and validate the performance of the concept.
Engineering Development of a Lightweight, Modular HV Battery Architecture for Electric Sports Cars
A lightweight, modular battery pack concept has been developed; maximising gravimetric and volumetric energy densities through advanced integration, cost reduction through simplistic design and performance through an advanced and targeted cooling system to extract heat in the most efficient way out of the cell.
The module design allows flat and stacked battery configurations to be constructed which are scalable allowing the same fundamental block to be used in lightweight 2-seater sports cars, to longer wheelbase super-cars and even SUVs, at 400V and 800V with little rework.
This work focuses around a 21700 cylindrical cell but is shown to be transferrable to cylindrical cell of larger dimensions easily.
Engineering Development and Integration of Ultra-Lightweight Electric Drive Units for Sports Cars
This paper is focused on introducing the challenge that has arisen in designing an EDU suitable for a Lotus BEV. Technical insight is offered on critical criteria of assessment and a proposed concept is offered as a solution. A high-level run through packaging, inverter, e-machine, transmission and torque vectoring is presented. This will showcase the state-of-the-art technology that Lotus and LEVA has been developing.
LEVA Digital Twin – Casting Simulation and Material Property Mapping for Downstream Structural Analyses
This paper documents CAE and test work undertaken to develop a "Digital Twin" modelling casting manufacturing processes, using MAGMASOFT software, for use as an integral part of the casting design process.
MAGMASOFT casting simulation software has been successfully used to simulate localised post cast material structural properties and to map these structural properties onto downstream CAE models for use in subsequent LS-DYNA studies; used typically to predict structural performance of the castings under crash and extreme loading conditions.
The potential benefits of the "digital twin" have been demonstrated during design development, via CAE down-stream CAE simulation and in coupon material property tests.
Further work is required to develop robust manufacturing CAE casting simulation property mapping and down-stream CAE processes.
Methodology Development for HV Battery Thermal & Cooling Analysis
A robust and extensive analysis process is necessary for iterative work when expanding into new ventures such as battery technology. This paper reviews a CAE tool developed to analyse the thermal behaviour of a high voltage battery tray and its cooling system. The work done is applied to a tray of prismatic cells with the cooling plate attached to under the tray. Along with the boundary conditions and thermal characteristics setup, user subroutines (USR) were applied to incorporate automation of building and running the model.
---
More information
For more information, please complete the form below and the papers of interest will be emailed to you.